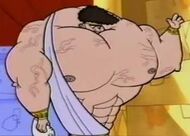 Hercules
is a demigod of Greece, and one of the judges of the Gargantuan Greek Games in the episode,
Infernal Flame
.
Hercules has the appearance of a large, muscular man. In mythology Hercules is known for his super strength.
His picture is offered to Count Geoffrey by Flicker in the episode Chain Mail Letter.
According to Greek mythology, he should actually be a demigod and his name should be Heracles ; Hercules is his Roman name.
Ad blocker interference detected!
Wikia is a free-to-use site that makes money from advertising. We have a modified experience for viewers using ad blockers

Wikia is not accessible if you've made further modifications. Remove the custom ad blocker rule(s) and the page will load as expected.