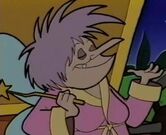 Mildred
is the fairy godmother of Slumberland.

In Griddle's Sleepless Knights, she gave Flicker and Sir Loungelot pajama-style outfits for Slumberland and told them to be quiet in the Shush Zones. Loungelot repeatedly kept yelling and was punished by Mildred each time. When shooting a beam of magic at him, she accidentally destroyed Mr. Sandman's castle.
Ad blocker interference detected!
Wikia is a free-to-use site that makes money from advertising. We have a modified experience for viewers using ad blockers

Wikia is not accessible if you've made further modifications. Remove the custom ad blocker rule(s) and the page will load as expected.