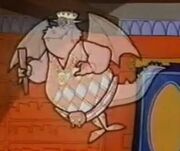 Sir William Furnace
is the king of Scotland, appearing only in the episode
MacBreath
.

He was murdered by MacBreath with a mace at Loch Ness so that he could take his throne, but had at least two living relatives - Sir Burnevere and Duncan. He returned as a ghost to haunt the castle, and to tell Flicker and Princess Flame that MacBreath killed him.
Ad blocker interference detected!
Wikia is a free-to-use site that makes money from advertising. We have a modified experience for viewers using ad blockers

Wikia is not accessible if you've made further modifications. Remove the custom ad blocker rule(s) and the page will load as expected.