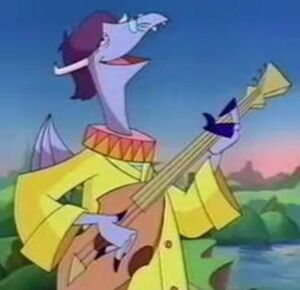 In season one, the Minstrel introduced and closed out most episodes with a short verse or song related to the content of the episode. While breaking the fourth wall in "Knights and Knightresses", Flicker remarks that he "thought he was just a background character who served as mere bridges between the scenes". In the second season, due to the shorter episode lengths, the Minstrel only appeared in the episode "Shamrocks and Shenanigans" as a secondary character, explaining that he was fired from Castle Camelhot, most likely due to budget cutbacks. Afterwords he was only mentioned by Flicker once in Attila's Hot Buns.
Ad blocker interference detected!
Wikia is a free-to-use site that makes money from advertising. We have a modified experience for viewers using ad blockers

Wikia is not accessible if you've made further modifications. Remove the custom ad blocker rule(s) and the page will load as expected.